The Polish Ambassador // Scott Nice // TROPO
Fri
October 13, 2023
7:00 pm
PDT
SLO Brew Rock ,
855 Aerovista Place, San Luis Obispo, CA
Ages 21 and Up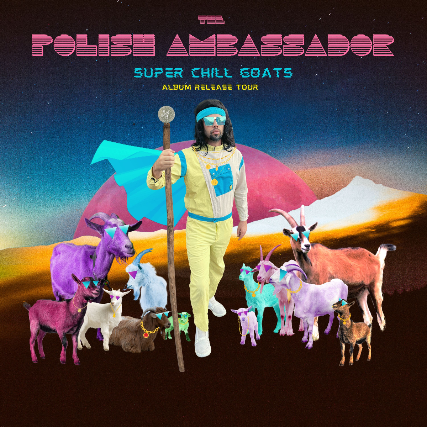 $25.00
On what is being dubbed the Ambassador's most club worthy music to date, David
Sugalski dips and swirls through an array of genres : world, bass, hiphop, synthwave,
and funk are all present. This is electronic music with groove that gets the dance floor
bouncing.

The Polish Ambassador rocks more than a trademark jumpsuit, authoring sublime,
intentional artistic works, animated safaris in technicolor sound. The Jumpsuited One
has headlined iconic venues like Red Rocks Amphitheatre in Morrison, Colorado, and the renowned counter-culture gathering Oregon Country Fair. Suwannee Hulaween, Electric Forest, Envision Festival, and Lightning in a Bottle and other national festivals have each repeatedly invited TPA back across different years.

The Ambassador manages a 25 acre goat, sheep, fruit tree homestead, has a solar
powered music studio, coordinated The Permaculture Action tour in which fans were
invited to participate in service days in their local communities the day after each show.
In 2018, The Polish Ambassador released a full length graphic novel based on the
mythology and origin story of the TPA character.